Senator Dianne Feinstein has demonstrated leadership in promoting a praiseworthy new sense of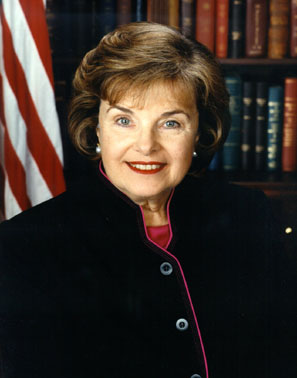 the Senate Resolution regarding the Israeli-Palestinian peace process. The Resolution has not yet been introduced, but you can see an advance copy of the text here, and Senators Dodd, Hagel, and Lugar are all on board already. Other Senators should be encouraged to sign on to the Resolution while Senator Feinstein should be praised, and here's why.
A non-binding Senate Resolution is not going to dramatically effect the situation in the Middle East but it could demonstrate that senior US politicians are capable of advancing meaningful and constructive positions on the Israeli-Palestinian conflict, something that has been in desperately short supply. The text of the Resolution occupies a territory (so to speak) that is unequivocal in its commitment to Israel and Israeli security while at the same time guided (as it should be) by US interests, and mindful of Palestinian needs.
Understandably, if regretfully, it dodges the need to deal with the Hamas-Fatah PA Government (Tom Friedman gives the Dr. Seuss guide to talking with Hamas in his New York Times op-ed today), but there is plenty of useful stuff.
The Resolution describes ending the Israeli-Palestinian violence as a "vital interest of the US," notes that the conflict "strengthens extremists" and that "peace could have significant positive impacts on security and stability in the region."
The robust diplomatic effort Feinstein and friends call for, prioritizing the attainment of a two-state solution, and appointing a Special Envoy if necessary, represent precisely the direction US policy should be guided towards - and a key missing link in re-stabilizing the region and creating more propitious conditions for a troop draw-down in Iraq.
This is how the 40th Anniversary of the Six-Day War should be marked, by, in the words of the draft Resolution, using "the occasion of this anniversary to redouble their efforts to achieve peace." Now let's see whether the other Presidential candidates sign up (Dodd has, so far, apparently). Oh, and another thing - this could not stand in more stark contrast to the silliness displayed by the House last week in adopting HCR 152. That Resolution praises Israeli "unification of Jerusalem," calls again for moving the US Embassy to Jerusalem and commends Israel for its administration of the city. OK, so maybe its just meaningless grandstanding, and even the House version calls for a two-state solution - but to achieve that you must re-divide Jerusalem... and with everyhing going in the Middle East right now you really think this is the time to relocate the Embassy?!? As John McEnroe was prone to scream, "You cannot be serious!"