Israeli Prime Minister Ehud Olmert and Palestinian President Mahmoud Abbas met today in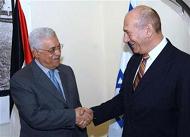 Jerusalem and continued the bearhug that has characterized policy since the Hamas takeover in Gaza. So far, reports on the meeting on the Israeli side have focused on the confidence building measures presented by both sides. Channel Two News in Israel has just taken a healthy, cynical attitude to the meeting, announcing a "culinary breakthrough," with Olmert's advisers having briefed reporters that he was looking forward to experiencing sweet desserts that would be prepared by Saeb Erakat's wife at the two leaders' next scheduled meeting in Jericho.
These were not the only sweeties discussed in their meeting with Israel championing the series of gestures it was taking to bolster the Abbas/Fayyad government. The release of 250 prisoners likely this week will give Abbas something to point to, especially as both sides have now been smart enough to include a smattering of non-Fatah prisoners in the deal (but, of course, none from Hamas). Abbas has also secured a deal to remove 178 Fatah affiliated Al-Aqsa Martyr Brigade militants from Israel's wanted list, and some of the Palestinian tax monies being held by Israel have now been released.
These are being sold by the Israelis as major steps, and, to be fair, they are better than nothing, and Olmert has paid a domestic political price in advancing them, with members of his own cabinet coming out against him. But they still fall far short of what would be needed to really change the atmosphere on the Palestinian side. Regarding at least two crucial points on the Olmert/Abbas agenda there is still no apparent progress, namely the easing of IDF restrictions on Palestinian movement in the West Bank and agreement to restart negotiations on the big permanent status political issues.
The problem is that neither side appears to have a serious strategy. Israel is as yet unwilling to put the occupation lock, stock, and barrel on the table, and to recognize that negotiations have to be based on the 1967 lines. The new and narrowly supported Abbas/Fayyad government has presented no credible plan as to how it will muster the carrying capacity to deliver broad Palestinian acceptance of any deal reached, to end violence, and to reintegrate Gaza.
The elephant in the room (ending the occupation notwithstanding) is Hamas. In today's meeting Olmert apparently reiterated that any Israeli positive steps were conditional on no return by Abbas to dialogue with Hamas. Right now, Abbas needs little encouragement on that score as he continues to attack Hamas from every platform (although others in Fatah are already singing a different tune).
The steps being taken in the internal Palestinian struggle continue to make for not very pretty viewing. Hamas had described their takeover of Gaza as a second liberation -- 'first the Israelis were removed, and now their Fatah collaborators.' This is criticized by many Palestinians as not only akin to the divisive moves by Fatah, but also as playing into Israeli PR claims that Gaza is liberated when it is under siege from all sides and still subject to daily incursions.
The actions taken by the Ramallah government are equally, if not more, disturbing. The PA in the West Bank has established military courts to replace civilian courts, and has scrapped the progressive legislation that existed regarding NGO activity. The very constitutionality of the Ramallah government is legally questionable, and the reintroduction of the old unreformed institutions of the PLO to again play a central role in Palestinian political life is hardly something to be welcomed. Watching Abbas court the PLO Central Council and the likes of DFLP leader Hawatmeh and Farouk Qadoumi as a way of embellishing his government's legitimacy is a clear sign of desperation and it makes those of us who have great respect for Abbas wince.
The Ramallah and Gaza governments are also fighting two mini-skirmishes over salaries and the Palestinian Legislative Council. Some of the salaries being paid by Ramallah to Gazan PA workers come with the ask that those workers not show up to their jobs, while Hamas continues to pay its own appointees (mainly in the security sector) through its own sources of funding.
The Parliament met twice last week. The Fatah members, then the Hamas members in turn boycotted, so on neither occasion was their a quorum. Anyway, forty-five of the 132 PLC members are currently in Israeli prisons. Suffice it to say that the process of democracy building is hardly the winner here.
Driving home Palestinian division is simply not a policy that can deliver. First of all, it stacks the odds against the security and stability that are crucial to any peace process. Secondly, even if negotiations begin, and even if a deal is reached, between Israel and the Abbas/Fayyad government, that deal will be tough and difficult for both sides to market. And doing so, in the context of deep Palestinian division, almost guaruntees that such a deal will lack the legitimacy to make it sustainable. Interestingly some Arab states, EU foreign ministers, and the UN Secretary General have all seemed to recognize as much in their own statements. UN SG Ban Ki Moon was quoted by the BBC last week in a TV interview as supporting a return to Palestinian unity talks. The Egyptians and Saudis, and the Arab League, have been putting out feelers towards eventually reconvening an internal Palestinian dialogue. All ten EU foreign ministers of the Mediterranean area, meeting last week in Slovenia, sent a letter to new Envoy Tony Blair that included the following call:
Don't push Hamas to up the stakes. This means reopening the border between Gaza and Egypt, facilitating movement between Gaza and Israel, and encouraging Saudi Arabia and Egypt, as President Mubarak has proposed, to help get the resumption of the dialogue between Hamas and Fatah.
But unfortunately none of this is likely to be reflected in today's presidential address on the subject by George W. Bush.