This weekend's Israeli papers are almost single-issue editions, but over there it's all about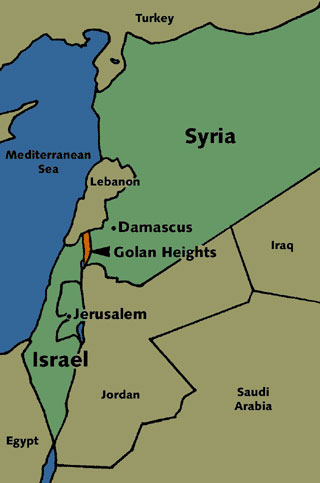 Israel-Syria, war or peace, not Paris Hilton. The Israeli daily Ma'ariv has a poll showing 84 percent of Israelis oppose a total withdrawal from the Golan (though it split almost 50 - 50 on a partial withdrawal). Ma'ariv's lead opinion writer, Dan Margalit calls on Prime Minister Olmert to form a cross-party national advisory council to manage the Syria file and to build a broad consensus for a peace deal. Haaretz' lead analysis piece by Amir Oren discusses a countdown to war, and how it might still be avoided. And in Israel's bestselling daily, Yedioth Ahronoth, Romem Bergman presents a lengthy, detailed and highly informative history of all the past Israeli-Syrian negotiations -- under Rabin, Netanyahu, and Barak.
This media frenzy comes in the wake of Wednesday's Israeli cabinet meeting that reviewed options regarding Syria, a highly publicized war training exercize on the same day, and a fever-pitched rumor mill of secret back-channel messages running between Damascus and Jerusalem. The pictures on all the Israeli news channels on Wednesday night really were dramatic as TV crews were invited to film an Israeli military simulation exercize of an attack on a Syrian village close to the border, all conducted in the presence of the Israeli Defense Minister and IDF Chief of Staff. At the same time there has been a rash of reports regarding advanced Russian weaponry making its way to Syria via Iran, and of a possible Syria plan to grab back a small area of the Golan as a potential bargaining chip.
It is seven and a half years since the last Israeli-Syrian peace talks. The immediate background to all of this chatter is the numerous messages sent by the Syrian leadership to resume negotiations with Israel since last summer's conflict with Lebanon. The Israeli interim Winograd report into that war implied heavy criticism of the country's leadership for failing to explore the peace option with Syria. The current emphasis seems to be on the possibility of each side misreading the other's intention, and that these misunderstandings could deteriorate into an unintended military conflagaration. All of the relevant senior officeholders in the Israeli military are keen to avoid a conflict, and they are all reported to view the negotiation option with Syria favorably. This includes the IDF Chief of Staff, Gabbi Ashkenazi, the head of the Northern Command, Gabi Eisenkopt, and the head of Military Intelligence, Amos Yadlin. Israel's leading commentator, Nahum Barnea, had this to say in Yedioth Ahronoth:
The preparations for war are designed to pressure Israel into opening a dialogue. There is nothing new here: the Syrians have said as much – repeatedly and publicly. Senior IDF officers, who spoke to me about this issue over the last week, said that they failed to understand why the government was finding it so hard to give Damascus a positive answer.
Here are five initial comments on the issues at play here, and what might be going on:
(1) In the past it was often said that Syria wanted a peace process, but not a peace deal. True or not, that same distinction might apply today to the calculations of Israel's Prime Minister. Olmert's preoccupation right now has to be his own political survival. He needs to create an agenda and a reason for Labor to stay in the government after they elect a new leader. A sense of progress on the Syrian track might achieve both, however, actually moving towards closure could threaten his coalition from the right and his parliamentary majority. The first consideration, then, were a diplomatic initiative to be launched, is: does Olmert want to deal or lots of background noise?
(2) The same question can also be asked of Syrian President Assad. He would clearly favor a return of the Golan and a roadmap out of his diplomatic isolation and threats to his regime. But the price for Assad would entail more than making peace with Israel, and it is the additional menu items that present a dilemma for the Syrian President -- and may well be very difficult for him to deliver on. It is assumed that these would include a reorientation of Syrian alliances away from Iran and the assertion of pressure on Hizbollah regarding its armed militia. Absent a broader regional makeover, Syria would have a tough time delivering on these fronts, and may not even see this as being in its interests.
(3) The American role here will be crucial. The US has thus far discouraged a positive Israeli response to the Syrian overtures. According to Israeli press reports, President Bush has now given Olmert the green light for exploratory talks with Syria and this will undoubtedly be discussed when Olmert visits the US this month. But absent direct US engagement on the Israeli-Syrian track, any initiative is highly unlikely to succeed, if for no other reason than that a key Syrian ask will be US guarantees. Syria will not move away from its strategic relationship with Iran in exchange for a frosty standoff with the US.
(4) And this brings us to Lebanon. US policy on the Israeli-Syrian track is apparently being determined as a byproduct to its Lebanon policy. There are no signs that the US is working towards an accommodation in Lebanon; in fact, signs point in the opposite direction. Given the state of play, it is unclear whether a Lebanese restabilization package is even doable right now. The nature of a deal on the Hariri tribunal, even if it were deemed desirable, has become difficult to envisage. So, in a reverse of the old equation, Lebanon may now hold the key to Israeli-Syrian peace.
(5) Still, a serious effort on the Israeli-Syrian track would be the right thing to do. To his credit, Olmert has apparently expressed his recognition of the territorial price for a deal with Syria. I would argue that, today, success on an Israeli-Syrian bilateral track would be very difficult without a recalibration of the entire regional approach. That means serious engagement with the Palestinians, as well as a diplomatic initiative for Lebanon, and at least diplomatically challenging Iran. The US would have to be an active, if not lead partner in all of this, but there are few signs of such a diplomatic surge.